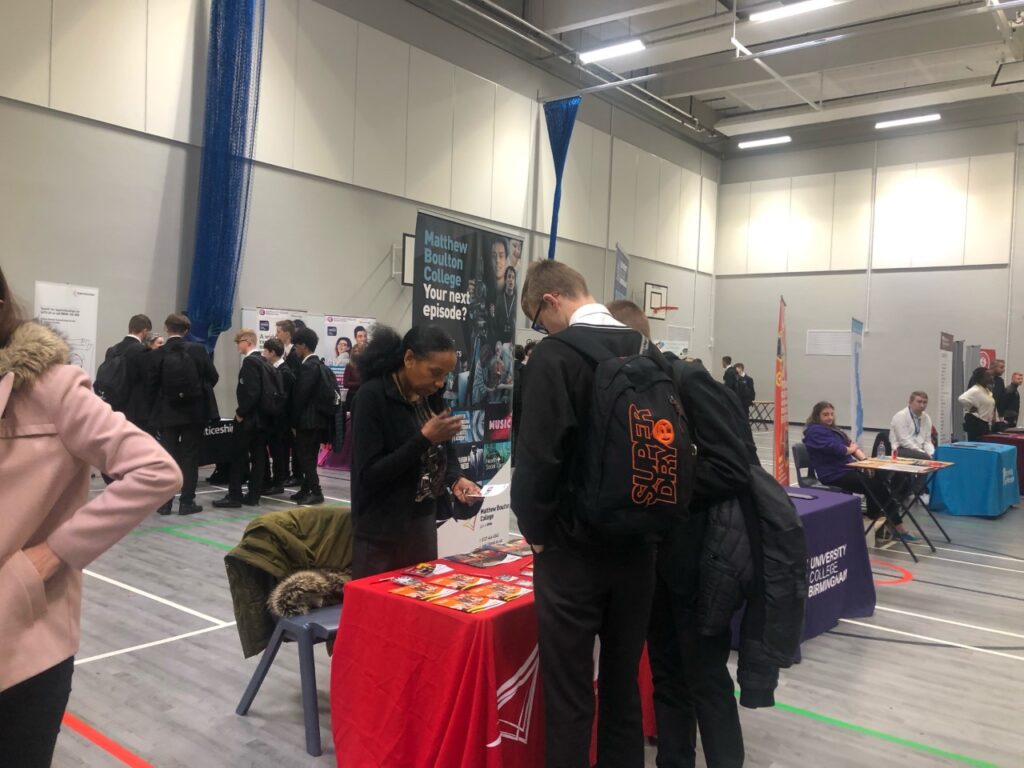 It's been a busy half term for Careers Education at Turves Green Boys' School. There have been a number of activities undertaken by KS4 to give them the knowledge and experiences they need to be able to make informed choices about where they want to go, post 16.
Year 10 and 11 Careers Fair
On Wednesday 13th October, Year 10 and Year 11 Pupils attended a Careers Fair on Wednesday 13th October. Pupils were able to meet, in person, representatives from the world of work, apprenticeships and Post 16 Education. Before attending the fair, pupils were advised about Level 3 courses, and the importance of success at GCSE. Pupils were informed about BTECs, T-Levels, A-Levels and Apprenticeships and were able to meet with employers and educators who could provide specific guidance for each pupil. Sam was really interested to find out about modern apprenticeships, including one in Archaeology and John was really engaged with how he could get on a Business course in September 2022. Most importantly, pupils were able to start those conversations about the next steps in their education and training.
'The day was perfect if you didn't know what you wanted to do, like myself, for college there were lots of colleges and apprentice opportunities for you to look at and talk to some staff members. I think it helped me a lot with what colleges I could pick for my further education once I leave Turves Green Boys' and I had spoken to places such as Cadbury Sixth Form College which I really liked, Access College in Digbeth I really liked there too. There were many more to see and talk to. I think it was a huge help for people who struggle to find a college that is good for them and what education they can offer you to do if you select there. For me, I want to be a teacher, so I would like to get into teaching and many of the colleges there offered that course so it was a big bonus.
I had a great time there and would love to do another it would really help'
Noah yr. 11