Contact Details:
Turves Green Boys' School,
Turves Green, Northfield, Birmingham, B31 4BS
Telephone:
0121 483 2890
Email:
postbox@tgbs.co.uk
Website:
www.tgbs.co.uk
Twitter: @TurvesGreenBoys
Heateacher:
Mr J Till
SENDCO: Mrs K Green - postbox@tgbs.co.uk
Turves Green Boys' School is part of the Matrix Academy Trust. Details and contact information for the Trust can be found at
www.matrixacademytrust.co.uk
Key Stage 4 Results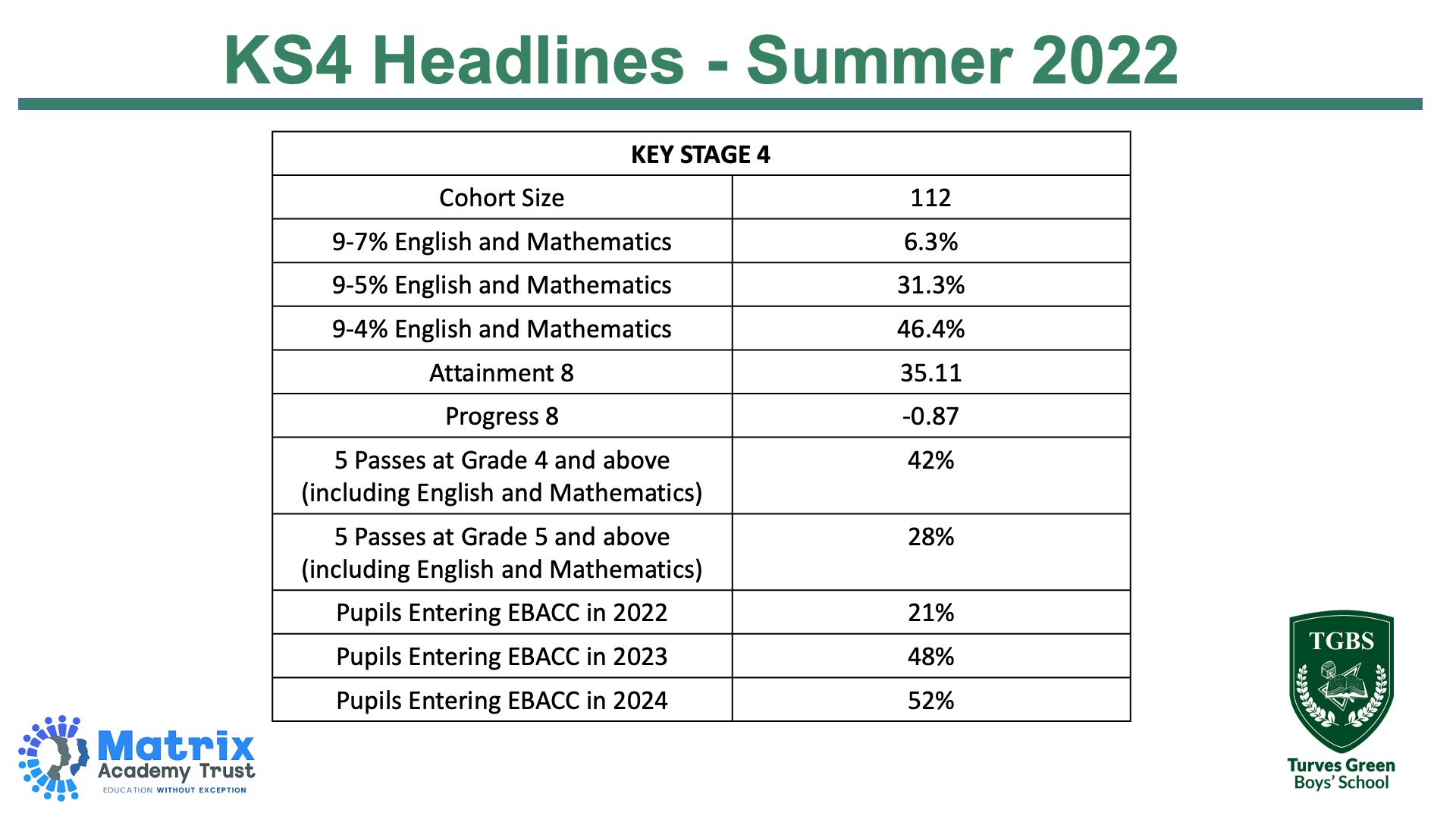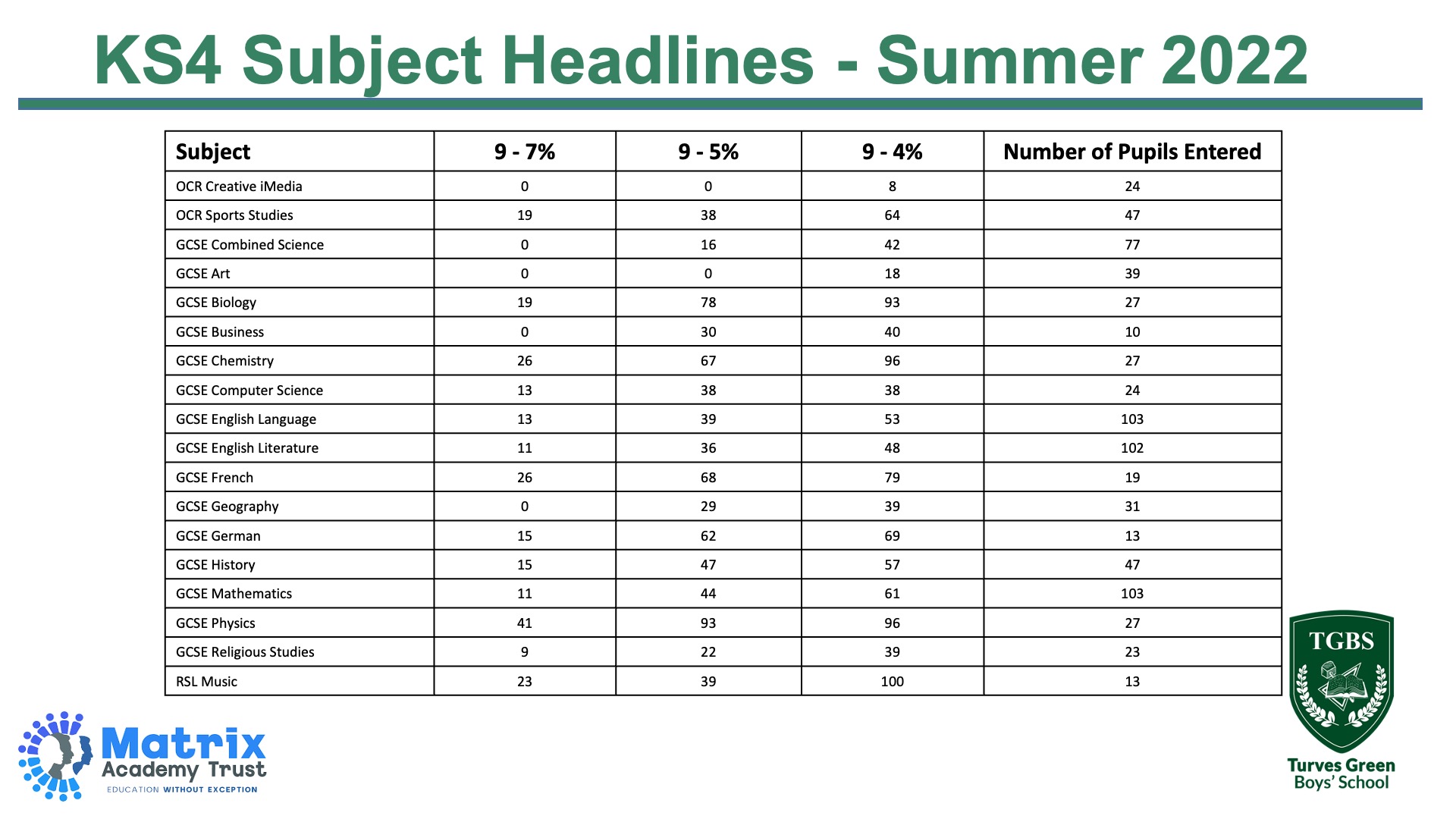 At Turves Green Boys' we aim to deliver a broad and balanced curriculum which covers the academic aspect of education as well as personal development. We aspire to develop successful, well rounded and confident young men who strive to succeed and become responsible contributors to society. Their curriculum enables them to develop the relevant skills and gain qualifications to facilitate this and progress onto the next phase of their lives. We firmly believe in equality of opportunity and at KS3 all pupils study a wide range of subjects aiming to build on their learning from Key Stage 2 but also to introduce them to new subjects. In lessons they will not only focus on building and developing knowledge and skills but also on general learning and thinking skills. Their social, moral, spiritual and cultural development is important and at times is featured within subject based lessons in addition to dedicated personal, social, health and economic (PSHE) lessons and assemblies. In Spring of Year 9, pupils will choose their GCSE Option subjects and will begin these courses at the start of Year 10. Pupils are offered a choice of three option subjects in addition to the compulsory core subjects. The national curriculum is covered at both key stages and curriculum documentation clearly identifies how learning build over each key stage and the five years that they are with us. The curriculum is delivered via a 1 week timetable consisting of 25 x 1 hour lessons.
Careers Information
Key Members of Staff Careers Leader - Mr T Walker twalker@tgbs.co.uk Careers Advisor – Mr D Tehan dtehan@tgbs.co.uk Introduction At Turves Green Boys' School, we believe that all pupils should have the knowledge and research skills to access a wide variety of Careers Education, Information and Guidance (CEIAG), allowing them to make informed decisions to ensure they are successful as lifelong learners. Our high quality careers advice and guidance is developed throughout each pupil's time at the school and is supportive of every pupil's aspirations, strengths and skills.
Governance
The Chair of Trustees of Matrix Academy Trust is Mr Jeremy Bench, he can be contacted via postbox@matrixacademytrust.co.uk or 01922 211 264. The Trust head office address is: Matrix Academy Trust, Leamore Lane, Bloxwich, Walsall, West Midlands WS2 7PS, Governance information can be found at About > Governance.
Complaints & Whistleblowing
The Trust Complaints Policy and Whistleblowing Policy can both be found
HERE